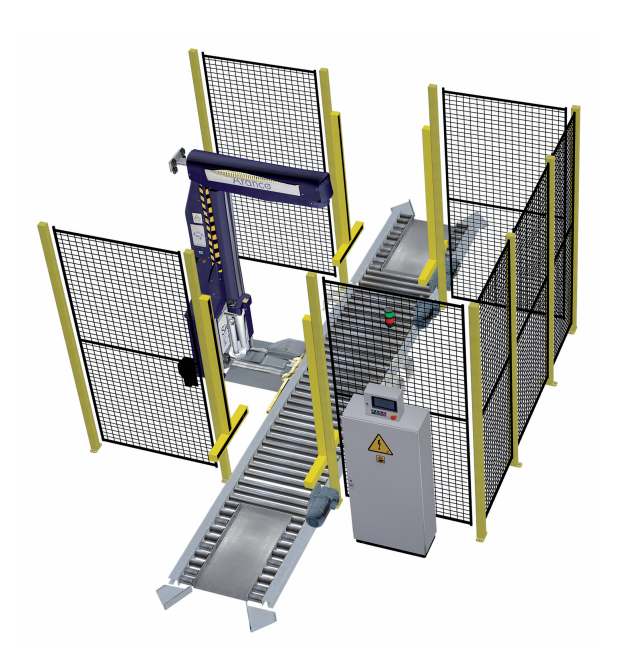 Automatic installation in the smallest space: FA-PRO
The FA-PRO automatic pallet wrapping system with rotating arm wrapping machine is suitable for production rates of 30 to 50 pallets/hour.
With a stretch wrapping machine designed and manufactured by us in Spain, this installation does not require any previous work. The wrapping machine control module allows to program different wrapping cycles.
The machine automatically cuts and seals the stretch film. The installation has a safety system with photocells that detects the presence of people and stops the wrapping arm.
It uses our high performance stretch films, with a waste reduction of up to 50% and 100% recyclable. With permanent remote and on-site assistance in 24/48 hours. Includes Customer Web (online portal with relevant data). CE regulations.
Remote-connected wrapping machines.
Fa-pro: automatic arm installation
No construction work required: thanks to its double fixing bracket and the auxiliary column (optional), it can be installed anywhere in the warehouse.
Cost saving: nuestros films de alto rendimiento especialmente desarrollados para el Servicio SIEplus garantizan un demostrable ahorro económico.
Waste reduction: the wrapping machine optimizes and reduces the use of stretch film (approx. 50%), and guarantees an optimal securing of the wrapped goods during transport.
Safety: Photocell system at both pallet entry and exit, which immediately blocks the rotating arm when it detects the operator in the safety zone.
Immediate technical response: the stretch wrapping machine is remotely connected to our machine control center.
CONNECTED PALLET WRAPPERS
Our high-tech connected FA-PRO Automatic Fixed Wrapping Machines are able to communicate with AGV robots (Automatic Guided Vehicle). The robots tell our connected stretch wrappers which wrapping cycle to apply to each pallet, in a specific way.
Thanks to this, our stretch wrappers are able to perform virtually the entire wrapping cycle automatically, including cutting and sealing the film.
Download our case studies