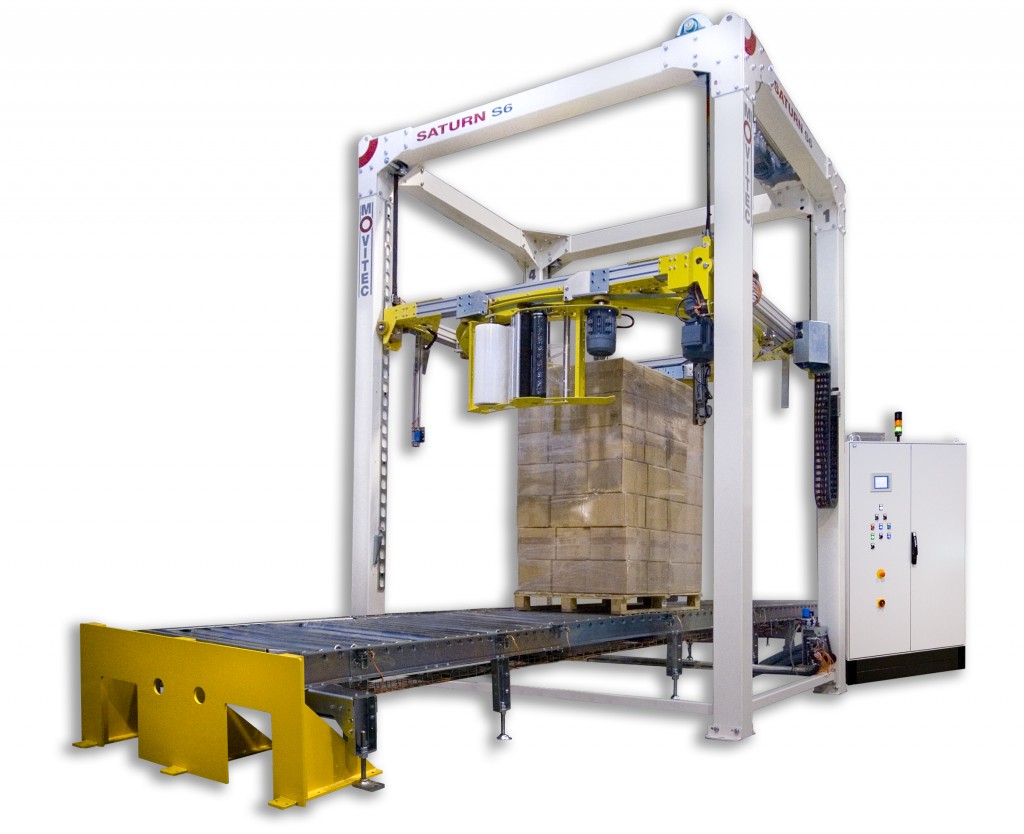 The automatic pallet stretch wrapping system with rotary ring stretch wrapper is suitable for high production rates (between 20 and 160 pallets/hour).
With a stretch wrapping machine designed and manufactured in Spain, the complete installation can be integrated into existing automatic warehouses or lines (customized layouts).
The stretch wrapping machine uses high performance stretch films, with a waste reduction of up to 50% and 100% recyclable. With automatic top film dispenser for protection (against water or dust).
Permanent remote and on-site assistance within 24/48 hours. Includes Web Client (online portal with relevant data). CE regulations.
Remote-connected wrapping machines..
Automatic installation: rotating ring
Complete installation at zero cost: the installation (stretch wrapping machine, roller conveyors, etc.) is included in the Sie+ Service at zero cost for the customer, without any payments or fees.
Robustness and reliability: stretch wrapping machine and installation designed for high intensity of use.
Speed: It wraps the load in less than a minute.
Customized layouts: we design the installation that best fits the customer's needs.
Cost saving: nuestros films de alto rendimiento /alta estirabilidad garantizan un demostrable ahorro económico y un óptimo aseguramiento de la mercancía enfardada.
Waste reduction: the stretch wrapper optimizes the use of stretch film and reduces waste (approx. 50%). The film is 100% recyclable.
Safety: It incorporates perimeter fencing, with access gate blocked in automatic mode, to prevent passage while the machine is operating automatically.
Immediate technical response: la instalación está conectada en remoto a nuestra central de control de máquinas.
Pieces and spare parts included at no additional cost.
Customer Web: online portal for customers (included in the Sie+ Service) with access to relevant data in real time: consumption, comparative reports, technical data, service reports, invoices, user manual, technical data sheets, certificates, etc.
Download our case studies