Last 21st April in Madrid took place the gala award ceremony of the DHL Green&Digital Innovation Awards, in its third edition, a competition organised by DHL Supply Chain Iberia to recognise and publicise the most sustainable and innovative projects in the Logistics 4.0 environment.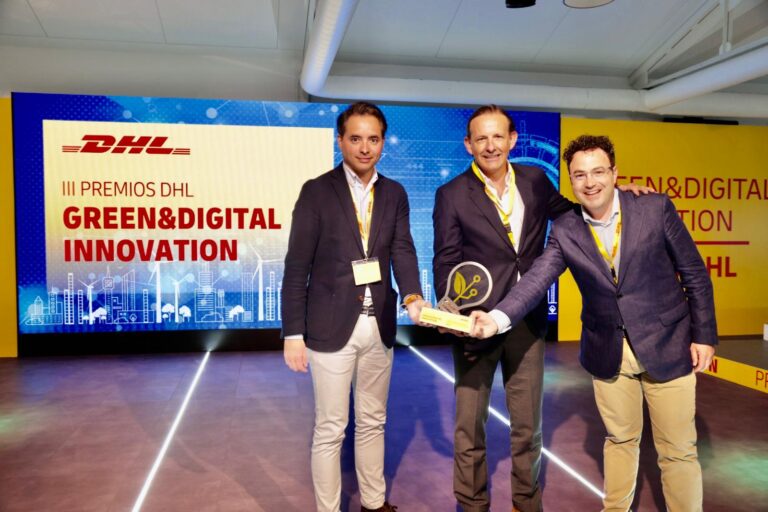 About our AMR pallet wrapping machine
Our AMR-wrapping machine transforms the current process of an operator moving the same pallet several times (unproductive work) into another, more productive and fully automated and controlled process, in which the machine carries out the transport, wrapping and data generation operations, with greater safety and time savings. This solution was created with the aim of simplifying and automating baling processes to increase the productivity of our customers.
This pallet wrapper has also been designed and manufactured by us in Spain, and we will soon be starting series production of it. Our customers will be able to obtain it at zero cost (without investment or fees) with our comprehensive Sie+ wrapping service.
The first and only stretch wrapping machine to integrate AMR technology
This great innovation is the result of years of research and development of stretch wrapping solutions, and presents multiple benefits for our customers, such as reducing the number of machines and pallet moving vehicles in the warehouse work areas (doing with only one machine what was previously done with several) and having greater control of the processes.
In addition, the AMR-wrapper machine increases the safety and ergonomics of warehouse operators.
About DHL Green&Digital Innovation Awards
The DHL Green & Digital Innovation Awards aim to publicly recognise those services, products or innovation projects that represent a breakthrough in sustainability, robotisation or digitalisation of the supply chain and that have a practical and direct application for logistics operators or companies that internally manage warehousing, transport and distribution activities.
In the Robotisation category, in which we were named winners, the best solutions, services or products that make it possible to achieve a significant advance in the digitalisation of the logistics business or its automation through robotics were evaluated.
About the Jury of the DHL Green & Digital Innovation Awards 2022
An independent jury assessed 63 top-level entries in the Logistics 4.0 environment for the categories of Innovation in Digitalisation, Sustainability and Robotisation applied to the supply chain.
The jury for the 2022 competition has had as its chairman and academic member Joan Jané, professor in the Department of Operations, Information and Technology at IESE Business School, and has been composed of Jorge Motje, CEO of Miebach; Javier Goyeneche, founder of Ecoalf; Blanca DrakeInnovation Marketing Manager of Telefónica; Jorge Catalá, Retail & Fashion Industry Head of Google Spain; Alfonso Calatrava, Marketing Science Regional Lead at Meta (Facebook); María Tena, Director of the Logistics and Transport Department at AECOC; Diego Díaz, Global Head of Ventures & Technology of Iberdrola; Susana Gato, Director of Corporate Responsibility at Atresmedia and deputy director of Fundación Atresmedia; Jorge Barrero, CEO of Fundación COTEC for Innovation; Ana Ruiz, partner in Transcendent; and Sandra Pina, CEO of Quiero and Sustainable Brands.
A philosophy of constant innovation
At Aranco, which we have always been committed to innovation, sustainability and digitalisation to improve wrapping processes, such recognition corroborates the efforts and in-depth specialisation we have acquired after years of experience and knowledge of the customer and their needs, which have resulted in an innovative wrapping machine that is unique in the market.
For Gaizka Lara Goiricelaya, Aranco's CEO, "Winning this award is a source of double pride and gratitude for Aranco. On one hand, we would like to thank DHL for organising competitions like this one that make each company give the best of itself and keep innovation as the engine of sustainable growth of our companies. At this point I would also like to mention the very high level of the jury and thank them for the award. On the other hand, pride and gratitude to the entire team of professionals that make up the Aranco family. This award recognises the talent, effort and commitment of a group of people who are the driving force behind the company's innovation. This award encourages us to continue working hard to be the best solution for our customers in Spain and other European countries, and the best company for our employees".
Find out what the AMR wrapping machine has to offer here: